Chef Works [CES02W] Roxby Womens Chef Coat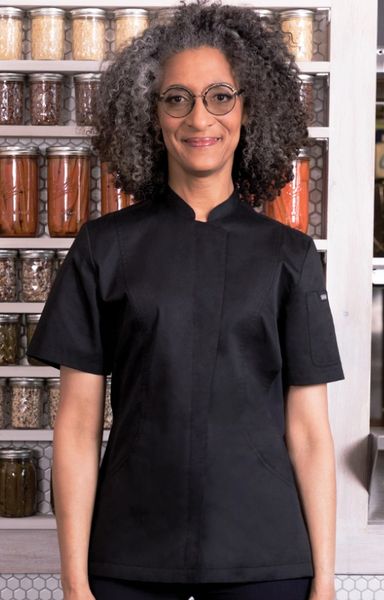 Chef Works [CES02W] Roxby Womens Chef Coat

Re-imagined for the feminine shape, the Roxby is a slimmed down, curve-hugging classic.
Chef Works [CES02W] Roxby Womens Chef Coat

FREE LOGO EMBROIDERY Available up to 10k stitches.

Logo Artwork Digitization is ONLY Free for Orders that are Over 6 Pieces.

65/35% poly/cotton 'lite' twill fabric

4.7 oz. fabric

Stretch side and back panels

Short-sleeve

Single-breasted with hidden snap closure

Side seam slits

Back collar apron holder with engraved snap tab

Left sleeve thermometer pocket

Right sleeve pocket

Curved front hip pockets

Available in white and black

Sizes: XS-2XL

Slim Fit: SF1
Reimagined for the feminine shape, this coat was created in homage to some of our favorite chefs. Inspired by the likes of Carla Hall and Stacey Poon-Kinney, the Roxby is a slimmed down, curve-hugging classic, offered in a crisp white or classic black. Constructed with a concealed snap front, this short-sleeve jacket offers a poly-blend side and back panel, along with added side slits for increased flexibility and breathability. Front hip pockets hold just about anything, and a left sleeve pocket keeps your jacket looking tailored and professional, with a back snap keeping your apron firmly in place, long after service wraps.
Reviews